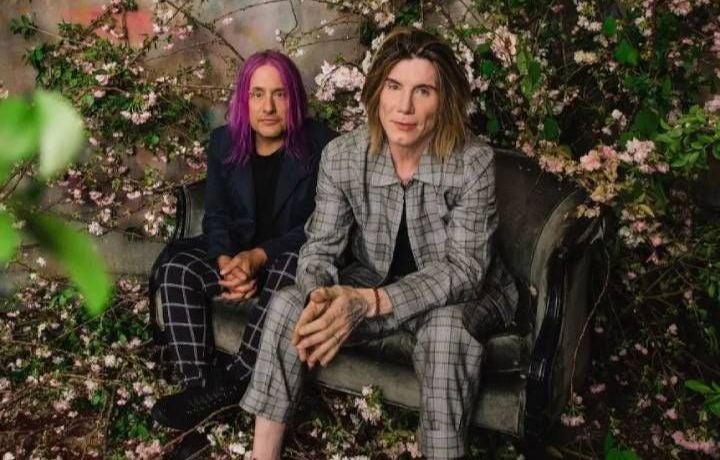 GOO GOO DOLLS - The Big Night Out Tour
with Fitz and The Trantrums
Four-time GRAMMY-nominated rock band Goo Goo Dolls have revealed the second leg of their The Big Night Out Tour with special guests Fitz and The Tantrums. Traversing through major outdoor venues coast-to-coast, the North American run will see the group delivering career-encompassing sets that feature songs from their new album Chaos in Bloom along with other hits from their complete discography including the indelible hit "Iris," which eclipsed 1 billion streams on Spotify last year.
Goo Goo Dolls will be partnering with Joe Torre Safe At Home for the tour, a nonprofit founded in 2002 by Ali and Joe Torre to provide healing and education services to youth who have been traumatized by exposure to violence including domestic violence, child abuse, teen dating abuse, and sexual assault to help break the cycle of violence.
The first album of their career to be produced by frontman John Rzeznik, Chaos in Bloom finds the band continuing to evolve just as they have for nearly four decades together. Consisting of 10 tracks including singles "Yeah, I Like You" and "You Are The Answer", Chaos in Bloom is an album of biting sarcasm, stadium-ready choruses, and the type of spear-sharp songwriting that's led them to becoming one of the most influential alternative rock groups of all time.
ABOUT GOO GOO DOLLS
Formed by Rzeznik and Takac in Buffalo, NY during 1986, Goo Goo Dolls have quietly broken records, contributed a string of staples to the American songbook, connected to millions of fans, and indelibly impacted popular music for three-plus decades. Beyond selling 15 million records worldwide, the group has garnered four GRAMMY® Award nominations and nearly a dozen platinum & gold singles combined, and seized a page in the history books by achieving 16 number one and Top 10 hits. As a result, they hold the all-time radio record for "Most Top 10 Singles." Thus far, A Boy Named Goo [1995] has gone double-platinum, Dizzy Up The Girl five-times-platinum, and Gutterflower [2002] and Let Love In [2006] both went gold as Something for the Rest of Us [2010] and Magnetic [2013] bowed in the Top 10 of the Billboard Top 200. Their music continues to reach new audiences around the world and rack up platinum & gold statuses – including the recently platinum-certified "Slide", "Black Balloon" and "Better Days" – and has been covered by everyone from Taylor Swift to Phoebe Bridgers and Maggie Rogers, Demi Lovato and more. Among a string of hits, "Iris" clutched the #1 spot on Billboard's Adult Top 40 chart for 18 weeks would be named "#1 Top 40 Song of the Last 20 Years." The track recently achieved seven-times-platinum status and re-entered the Billboard charts this year, yet again proving the timelessness of Goo Goo Dolls' illustrious catalog.
ABOUT FITZ AND THE TANTRUMS
Multi-platinum artists Fitz and The Tantrums have energized popular music and culture with a series of unshakable, undeniable, and ubiquitous anthems and albums. Since 2008, the Los Angeles collective have magnified the scope of pop with a dash of indie, a dose of soul, and a whole lot of dancefloor-ready bounce. Their catalog spans fan favorite records such as Pickin' up the Pieces [2010], More Than Just A Dream [2013], the gold-certified Fitz and The Tantrums [2016], and All the Feels [2019]. Along the way, they've impressively tallied just shy of 4 billion streams and counting powered by enduring hits such as the triple-platinum "HandClap," platinum "Out of My League" and "The Walker," and gold "Moneygrabber." As an inescapable presence, their music has notably coursed through the mainstream conversation, soundtracking films on NETFLIX and campaigns for CVS Wellness, Sunchips, Sofi, Xfinity, Walmart, Norwegian Cruise Line, Lays, and Wells Fargo, to name a few. Beyond standout performances everywhere from Coachella and Bonaroo to numerous late-night television shows, they've consistently sold out some of the most iconic venues in the world, including The Forum and Red Rocks Amphitheatre. Not to mention, they've incited the applause from Rolling Stone, Billboard, People, and more. In 2021, Fitz and The Tantrums frontman Michael "Fitz" Fitzpatrick released his first-ever solo album Head Up High under the moniker FITZ. Meanwhile, co-lead vocalist Noelle Scaggs founded Diversify The Stage to help foster more diverse, inclusive, equitable, and accessible concerts, events, and touring workforces for historically marginalized and underrepresented communities. Fitz and The Tantrums once again leap forward with their bold, bright, and buoyant new album Let Yourself Free.
Fitz and The Tantrums are: Michael "Fitz" Fitzpatrick (vocals), Noelle Scaggs (vocals), James King (saxophone, flute), Jeremy Ruzumna (keyboards), and Joseph Karnes (bass).