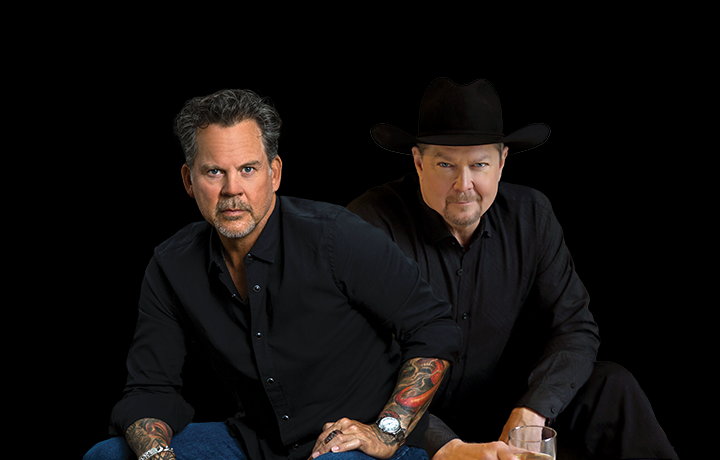 Gary Allan & Tracy Lawrence 2023 Summer Tour
with Tracy Byrd
The upcoming tour from the two hitmakers recalls 30 years of some of Country's greatest era-defining hits. Though Allan and Lawrence have both shared radio waves and immense respect for each other throughout their careers, this upcoming multi-state tour represents the first time fans will get to see both do full sets on the same stage.

"I'm really looking forward to doing these shows with Gary Allan," shares Lawrence. "We've been talking every day and we're really excited to hit the road together. What he brings to the table is unmatched and is going to elevate an already great night of music."

Gary Allan is on the heels of his recent album Ruthless and the critically acclaimed tour spanning his 25 years of outside-the-lines Country hits. Allan's 10th studio album won praise from critics and marked his eighth straight Top 10 Country album. Allan has also recently appeared on Tracy Lawrence's "Honky Tonkin'" radio show and supported Lawrence's Mission:Possible charity, including a set at 2022's 17th annual Turkey Fry — which raised more than $250,000 to help combat homelessness.

"Tracy Lawrence is one of the iconic artists of the 90s Country sound," says Gary Allan. "It's going to be fun to hit the road with him and hear those great songs every night."

Lawrence's impressive resume includes more than 13M albums sold and 18 No. 1 singles on the radio charts. He just wrapped the rollout of a three-part album series dubbed Hindsight 2020, which featured a collection of new songs and re-recordings of some of his biggest hits. In addition to releasing new music and touring the country, Lawrence continues his award-nominated radio show "Honky Tonkin' With Tracy Lawrence" and recently launched a new podcast right from his tour bus called "TL's Road House" which has featured guests including HARDY, Jason Aldean and Jelly Roll to name a few.

ABOUT GARY ALLAN:
With the allure of a modern day outlaw, Gary Allan has won over fans, peers and critics with his signature blend of smoldering vocals, rebellious lyrics and raucous live performances. While becoming a force on the country music scene, Allan has remained true to his artistic voice each step of the way. RUTHLESS, Allan's first new album in eight years was released in June 2021. The 13-song album feature songs produced by Mark Wright, Tony Brown, Greg Droman, Jay Joyce, and Allan himself. His last album,SET YOU FREE, topped the Billboard 200 (Pop Chart), a career first for Allan. The album also made its debut at the top of the Billboard Country Album chart (for the fourth time in a row), and produced his fifth #1 country radio chart topper with "Every Storm (Runs Out of Rain)."
The California native released his first album, USED HEART FOR SALE, in 1996 and since then has released eight additional studio albums selling over 8 million albums, been certified platinum on three back-to-back albums, and been certified gold five times. Allan has five #1 hits at country radio, fourteen Top 10 hits to his credit and amassed over 2.8 billion total streams. He's described as "dark and dreamy" inEntertainment Weekly, "soulful and rough around the edges" in Playboy and deemed a "maverick" by Rolling Stone. He sells out venues as a headliner from NY to LA, appeared on The Tonight Show with Jay Leno, Late Show with David Letterman, Late Night with Jimmy Fallon, Live with Kelly and Michael and Jimmy Kimmel Live. He has also landed on the covers of Country Weekly, Pollstar and People magazine.

ABOUT TRACY LAWRENCE:
Tracy Lawrence is one of Country music's truest traditionalists over the last 32 years in the Country music industry. His impressive catalog of timeless music has made Lawrence a mainstay in the genre selling more than 13M albums and charting 18 No.1 songs. He has garnered numerous CMA and ACM awards and nominations, as well as a Grammy nomination. After commemorating his three-decade career in 2021, Lawrence released three new albums which included new music along with some of his favorite career hits.

In addition to his chart-topping success, Lawrence hosts the Award-Nominated nationally syndicated radio show "Honky Tonkin' With Tracy Lawrence," for which he has received three ACM nominations for National On-Air Personality of the Year. The show features music from the 80s, 90s and 2000s and is heard on more than 150 affiliates.
Lawrence is also the co-creator of STORMING HEAVEN: THE MUSICAL, a production based on the novel "Storming Heaven." Lawrence, along with others, helped to develop the storyline of the musical and also composed songs for the drama. He was honored by the Nashville chapter of AFP (Association of Fundraising Professionals) with "Philanthropist of The Year" for his nationally recognized annual Mission:Possible Turkey Fry and Concert, which has raised over $850,000 for the homeless and hungry in Dallas, Louisville and Nashville, serving over 73,000 meals to date. In 2021, the organization created a Spring event, Mission:Possible Celebrity Golf Classic which has raised over $800,000. Between the two events and outside donations, overall, Mission: Possible has raised over $2M for homelessness and continues to not only fulfill their mission statement, but also advocate for the cause. Mission:Possible is poised to make an even larger impact in the future, as the 501(C)(3) organization shifts their focus to its founding location, Middle Tennessee.